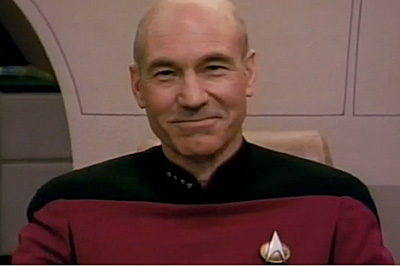 By Dave Bouressa
Having gone through the past two
Star Trek
film reboots with old Spock (playing by Leonard Nimoy) and a third on the way with a rumored William Shatner cameo,
Star Trek
fans have exclaimed "Enough of the old guys! Focus on the new!" However, if there were to be any cameo of Trek-alumni that would not have fanboys cry out in terror, it would be Patrick Stewart.
Stewart played Captain Jean-Luc Picard in
the
Star Trek: The Next Generation
television series from 1987-1993 and several Trek films-often reprising the role in comedy skits for shows like
Family Guy
and
Robot Chicken
, however, could the good captain return to the captain's chair? The answer is hopeful.
In a recent facebook
Q&A from Entertainment Weekly
, a fan posted a question to Stewart asking whether he would ever be interested in returning to play the role in a genuine
Star Trek
production. Stewart had this to say:
"Absolutely... if it were a really good script. But, the poor soul is getting old and long in the tooth. He would probably need some help mounting his horse unlike the youthful captain of 30 years ago."
In regards as to who would play a younger version of Picard, he responded with his own son, Daniel.
"Well, I would have to say it must be the actor, my son, Daniel Stewart"
As someone who grew up watching Captain Jean-Luc Picard travel through the stars as a young child and has recently watched the entirety of The Next Generation on Netflix, I only have three words to say to the powers that be: