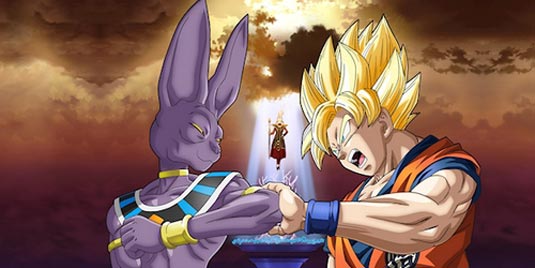 By Dave Bouressa
A new trailer has come out for the new Dragonball Z film, "Battle of Gods".
Be sure to check out the new preview here:
Dragon Ball Z: Battle of Gods
is the 18th movie in the Dragon Ball anime series. It will take place between Dragon Ball manga chapters 517 and 518, in the 10 year timeskip after Goku defeats Buu, but before the 28th World Martial Arts Tournament. Akira Toriyama along with Toei Animation, Fox International Productions Japan, Shueisha, Fuji TV, Bandai, and Namco Bandai Games are all involved. Dragon Ball Z: Battle of Gods is set to release in Japanese theaters March 30, 2013. There is no word on a North American or European release date at this time. --
Saiyanisland.com
Obviously, I have no idea how to speak Japanese, and have no idea what they are saying, but I grew up on Dragonball Z, and hope that an English dub is released, because I will certainly check it out. However, I find the villain to be an odd choice. He (maybe she? I don't know) looks like a cross between Jaxxon (look him up-yes, you are actually seeing that) and the Egyptian God, Anubis. But to be fair, Dragonball's choice of villain appearances have been stranger....I'm looking at you, Majin Buu!!!
So all you anime and Dragonball fans, be on the look-out for "Dragonball Z: Battle of Gods"